| | |
| --- | --- |
| | 24 August 2001 |
Teenage Nobel Peace Prize Candidate coming to New Zealand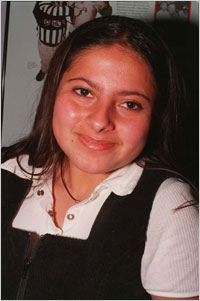 One of the youngest ever Nobel Peace Prize candidates is coming to New Zealand to encourage youth action in the community.
Monica Godoy, an 18 year old from Bogota, Colombia will be speaking in Christchurch on September 27th at the inaugural GlobalNet Summit for Youth.
Monica comes from Colombia, a country that has been racked by Civil War for nearly fifty years.
Spurred on by the fatal stabbing of a friend by a gang member in her neighbourhood, Monica and her three friends took action. They organised The Children's Mandate for Peace, which prompted a national referendum of 2.7 million young Colombians to vote in aid of human rights for minors. These young visionaries were catalysts for change and progress on a major scale and serve as an example of what can be achieved by drive and determination.
Monica will be speaking to students from age 10 to 16, who will take a serious look at environmental, cultural, social and economic issues, as well as discussing how to make a difference to their world.
Organiser of the GlobalNet Summit, Rebecca Strachan, says GlobalNet is a website that is an eLearning tool and resource. It is designed to be a base for young people to connect with each other, create solutions to global issues and then act on these ideas as projects in their local community.
Projects created by the students are then presented at the biennial GlobalNet Summit where young people from around the world can meet and learn from each other. This year's inaugural summit will host Monica as its keynote speaker.
Participation at the two and a half-day Summit costs $50 per student, which includes meals, refreshments and a sleepover at the Antarctic Centre. Information on the Summit can be found on the GlobalNet website www.globalnet.org.nz or by phoning the GlobalNet office 03 353 0352.
For more information on this event, please contact Rebecca Strachan on (03) 353 0352 or 021 564 403.
---