| | |
| --- | --- |
| | 30 April 2001 |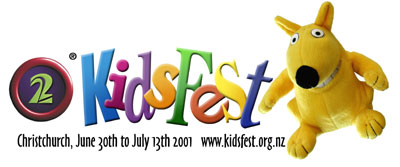 TV2 KidsFest Turns Ten in Christchurch:
130 events for kids from June 30 to July 13
TV2 KidsFest, proudly produced by Christchurch City Council Leisure, will again be capturing children's imagination and energy from June 30th to July 13th.
2001 sees the two week festival, and it's mascot 'Cool Stuff' the dog, turning ten years-old, and to celebrate the occasion, Cool Stuff will be available to children as a cute collectible limited edition beanie-toy for the very first time!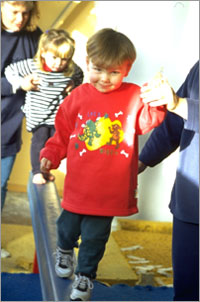 A huge birthday party celebration will take place on June 30th with the TelstraSaturn Fairytale Ball. Children are invited to dress-up in costume - or have a go at making their own costume - and come along to the classy Grand Chancellor Hotel in central Christchurch where the entire 14th floor will be decorated and filled with a vast array of fun things to do, see, listen to, and eat!
There will be prizes for creative costume, birthday cake, storytelling, entertainment and lots of music. An earlier Ball at 3pm will be held for the littlies between 0 and 8(and their caregivers), and older children between 7 and 12 are invited for the second party at 5.30pm. Both Fairytale Balls will be completely free of charge, as will over 30 events in the festival.
"It's very important to us that we bring quality, free entertainment to the people of Christchurch" says Christchurch City Council Leisure Events PR and Promotions Coordinator Beatrice Cheer, "In this day and age, mums, dads, and caregivers alike are under a lot of financial pressure to entertain the kids in the holidays, and we want to provide some relief from that!"
New events at this years festival include:
Junk Jam - a tour of percussive instruments from around the world.
Surfing the Solar System - a look at the planets and stars and an opportunity to make a ringed planet to take home.
Get Flushed! - A tour of the waste treatment plant.
Tissue Cards - making greeting cards out of coloured tissue.
Latin American and Break dancing.
Beginners stone sculpting, paper making and painting onto glass
Free fun with Creative Kids - a travelling road show of Pavement Art, Junk Art and the Flying Forest Family Circus.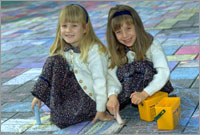 All this plus a great selection of theatre shows for kids.

Old favourites return in the form of The Milk Station Tour, Uni for Kids, Science Alive, Fudge Making, and Making Porcelain Dolls.

Many of the over 130 events sell out on the first day tickets are available. This year the Ticketek booking office opens on Saturday June 16th.

The colourful brochure will be distributed to every Christchurch child under 12 through schools in early June. It contains detailed information on every event, along with booking information and a mail-in booking form. Birthday surprises in the brochure include a pull-out and keep birthday card - with a cut-out-and-keep 'Cool Stuff' decoration - and games to play and things to make.

The brochure is also available online from June 1st at www.kidsfest.org.nz. Or call 03 9416 840 for details in June.

For more information, please contact:
Christchurch City Council Leisure Events PR and Publicity Coordinator, Beatrice Cheer, on 03 9418 495.
---