| | |
| --- | --- |
| | 01 August 2000 |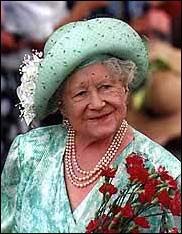 Happy Birthday Ma'am!
A Celebration of the Queen Mother's 100th birthday, Victoria Square, Christchurch, August 4th 12.30-1.30pm.
This Friday will be a special opportunity to wish the Queen Mother 'Happy Birthday' as she celebrates her centenary.
FREE In Victoria Square, from 12.30 to 1.30pm, The Garden City Big Band – joined by Stu Buchanan - will play some of the Queen Mother's favourite tunes, and audience members are encouraged to sing along with the National Anthem and 'Happy Birthday', before enjoying a yummy piece of free birthday cake!
If her schedule allows, a special 'Royal' guest may also be attending…
Join in for a right Royal good time in honor of The Queen Mother – and remember to dress warmly.
Bought to you by Christchurch City Council Leisure, with assistance from Crown Limousines.
For disabled access, parking, and wet weather venue information, please call 9416 840
For event information, please call
Eugene O'Connell,
Events Team,
9416 487 or 025 913 424
---