Libraries - more than just books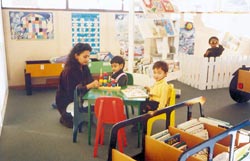 Children learn through play at the Sir John McKenzie Memorial Children's Library, Upper Riccarton.
Information at your fingertips
The Halswell and Hornby Libraries are a wonderful sources of information and recreation and are able to provide the following services:
Books, magazines, tapes, CDs, videos and CD Roms for adults, teenagers and children.



Internet access (a charge may apply for this).



Email facilities at competitive prices.



CINCH (Community Information Christchurch) — includes clubs, interest groups, societies, etc.



DICE (Directory of Continuing Education) — includes courses, night classes, etc.



Access to services for the housebound.



Photocopying facilities.



New Zealand phone directories.



Local electoral rolls.



Selected New Zealand newspapers.



Council information.



Display noticeboard.
Contact Details
Hornby Library
Goulding Avenue, Hornby; ph 941 7945.
Hours and Services phoneline: 941 6864
Fax: 349 8306

Halswell Library
381 Halswell Road, cnr Sparks and Halswell
Roads; pH 941 7944. Hours and Services
phoneline: 941 6863 Fax: 322 9710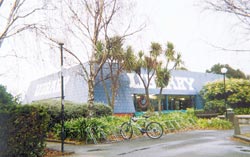 Hornby Library on Goulding Avenue.
Other Libraries In The Area
Riccarton Volunteer Library Riccarton Community Centre, 199 Clarence Street.
Hours: Monday to Friday 12noon-3pm;
Saturday 10.00am-12.00 noon.
Sir John McKenzie Memorial Children's Library
393 Riccarton Road, Upper Riccarton.
Hours: Monday to Friday 3.15pm-4.45pm;
Tuesday/Thursday 10.30am-12.00noon.
Mobile Library Service
pH 941-6640
For4 Mobile Library Stops contact the Mobile Librarian. Leaflets with stops and times available at Central City and Community Libraries.
Upper Riccarton Memorial Library
372 Riccarton Road.
Hours: Saturday 10.00-11.30am
Tuesday/Thursday 1.00-3.30pm.
Toy Libraries Halswell Toy Library
Oaklands School, Brenda Place
Hours: Wednesday 7.00pm-8.00pm;
Saturday 9.30-11.30am.

Hornby Toy Library
12 Wycola Avenue, ph 349-3109. (Answer phone)
Hours: Thurs 6.30pm-8pm; Sat 9.30-noon.